Welcome to Windsor Hills Townhomes
Welcome to our beautiful townhomes in Windsor Hills Resort. We hope that you enjoy our townhomes on your vacation as much as we do ourselves. With all of the comforts of home, the amenities of a 5-star resort just steps away, and the Disney attractions within 2 miles, we think our townhomes are the perfect choice for your best vacation possible.

Private Setting Steps to Clubhouse
Courtyard Townhome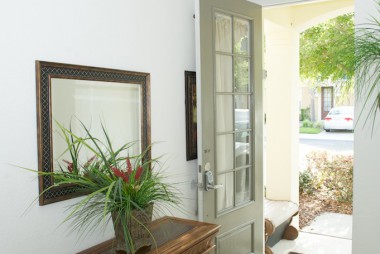 View Details
Townhome Amenities
3 Bedroom, 3 Bath Townhomes Sleeps 8
One block walk to the Clubhouse, Sundry shop (for groceries and necessities), Clubhouse Pool, and Tiki Lounge.
Full Kitchen, Living Room with Queen-sized sleeper sofa, and Queen Suite on First Floor
King Master Suite, Kids Bedroom with 2 Twin beds and bath, and Laundry Center on Second Floor.
14′ x 14′ x 5′ deep Heated Splash Pool with fully screened Lanai surrounding pool and deck with table and chairs
Equipped with Kid-Friendly Gear
– includes high quality high chair, stroller, stair gate, pack-n-play,
Flat screen TVs with DVD players in each room and Sony PS3 or Nintendo Wii game system in Living Room
Notebook computer with Free WiFi and Skype access, plus unlimited local and long distance telephone calls to North America and Central America
Security features include programmable electronic keyless entry, valuables safe, and child-safe security fence
This property is excellent. My family has stayed at Windsor Hills before, but this Townhome is located directly across from the pool/rec area and has great access ~ but it is still private. Kids loved the pool and the owner was great to work with. This unit had all the extras with pool toys and kids stuff. I would definitely stay here again. This is a MUCH better deal than staying at a hotel
This past weekend was spectacular! You have your Townhome so beautifully furnished, clean, and fully equipped. My family enjoyed every moment spent in your Townhome, from dinner, the pool, all the way down to a warm and relaxing shower and not the mention the King sized bed. Our stay with you was one of my best, bar none! My fiancé and I are looking to go back for Labor Day weekend. Please let me know as soon as possible. Once again I cannot express the pleasure it was to stay at your Townhome! . . .
Thanks so much for the use of your Townhome. Our family really enjoyed it, especially the splash pool right outside the back door. We used it every night, wish we had one in our backyard! The location of the Townhome was perfect, just a few minutes away from Magic Kingdom and away from all the traffic made it easy to go back and forth to the park. Plus, the condo itself is only a short walking distance to the resort clubhouse and pool. Perfect location! I would recommend renting your Townhome . . .